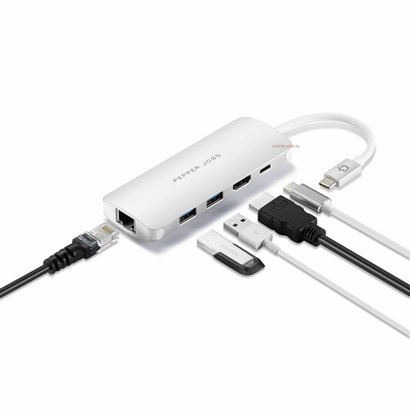 Pepper Jobs
TCH-5 USB-C Digital AV Multiport & Network Hub Adapter - silver
Pepper Jobs - TCH-5 silver
Availability:

In stock (13)
Order before 11:45 pm on business days, have it delivered the next day for free! Delivery on Saturday is possible. ...
More information
Product description
Brand:

Pepper Jobs

EAN:

4897089840155

Article number:

Pepper Jobs - TCH-5 silver

Availability:

In stock (13)
Pepper Jobs TCH-5 is a USB-C 3.1 to USB 3.0 with Gigabit Ethernet, USB-C charging port and HDMI output multiport hub.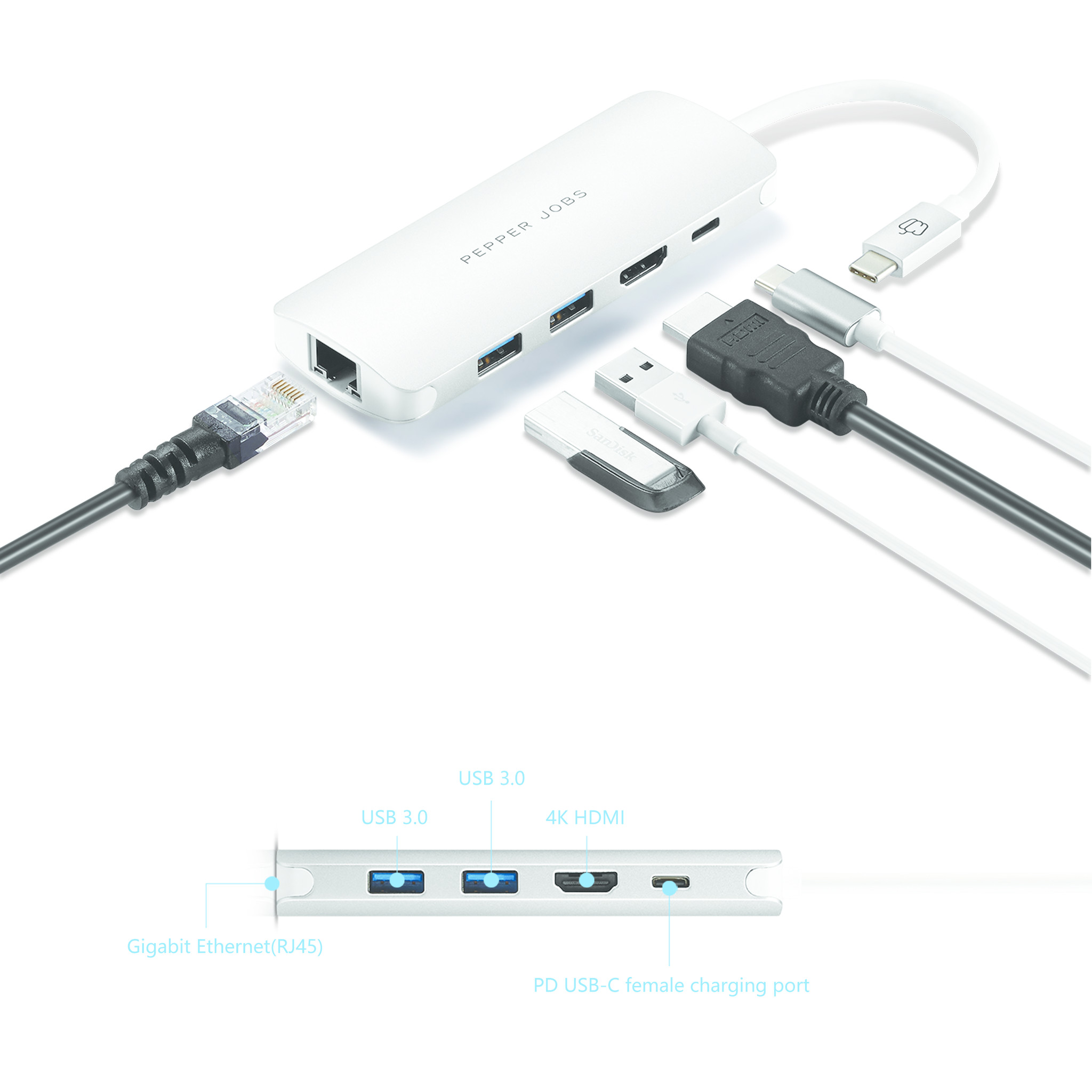 The Pepper Jobs TCH-5 USB 3.0 ports allow you to connect your USB devices or another hub to the host device, the USB-C female port can charge for the host device and supply power for the hub simultaneously, the Gigabit Ethernet port allows the host device to get access to wired network and the HDMI port allows you to connect to a HDMI monitor so that you can watch videos or slideshows together on a bigger screen.
This product has been designed to work with the new MacBook, the new MacBook Pro, Google's new Chromebook Pixel and other USB-C ready devices.
Pepper Jobs TCH-5 : USB-C Digitale AV Multipoort & Netwerk Hub Adapter
Support USB-C PD charging, HDMI output, USB 3.0 connectivity and Gigabit Ethernet connection
Support USB 3.0 super speed (5Gbps) transmission, compatible with USB2.0
USB 3.0 port supports charging and transmitting data for the USB device simultaneously
Support HDMI video resolution up to [email protected]
Support 10/100/1000Mbps bandwidth 
Support twisted pair crossover detection and auto-correction
USB-C female port can charge the new MacBook, new MacBook Pro or Google's new Chromebook Pixel and other USB-C supported devices and supplying power for the hub simultaneously
USB-C female port supplies power up to 60W (20V/3A)
Multiple USB interfaces support plug and play, hot swap
Premium anodized Aluminum body finishing
Easy to use and carry
Protection pouch included
Compatibility with (Type-c devices)
Apple 12 inch Macbook
2015 Google Chromebook Pixel
For HP Pavilion x2
Nokia N1 / For OnePlus 2
Lenovo Zuk Z1
Google Nexus 5X / 6P
Google Pixel C
Microsoft Lumia 950 / 950 XL
ASUS Z580C tablet
Xiaomi Mi 4C
Nubia Z9 Max
Huawei Nexus 6P en more...
Technical

Specifications

Input Connector

USB-C Male x1 for connecting to host device, USB-C Female x1 for charging

Output Connector

HDMI output x1, USB 3.0 port x2, RJ-45 Gigabit Ethernet port x1

Operating Temperature

0 to 45°C / 113°F

Operating Humidity

10 to 85 % RH (no condensation)

Power Supply

USB 3.0 Port: Output up to 5W (5V/1A), USB-C Female Port: Input up to 60W (20V/3A)

Certifications

CE, FCC, RoHS
Product bundles with TCH-5 USB-C Digital AV Multiport & Network Hub Adapter - silver
Reviews