Pepper Jobs
PD18W10P 18W USB-C PD Portable Charger
Pepper Jobs - PD18W10P
Availability:

In stock (114)
Order before 11:45 pm on business days, have it delivered the next day for free! Delivery on Saturday is possible. ...
More information
Product description
Brand:

Pepper Jobs

EAN:

4897089840285

Article number:

Pepper Jobs - PD18W10P

Availability:

In stock (114)
PEPPER JOBS PD18W10P is the newest generation of power bank that equips with a USB-C PD input/output port. Supporting up to 18W output, the USB-C PD port can quickly recharge your latest mobile devices such as Nintendo Switch, iPhone XS Max/XS/XR/X/8 Plus/8 and iPad Pro, etc. It also supports charging for traditional non-PD devices via the standard USB-A charging ports, simultaneously. The built-in battery capacity of this portable charger is 10,000mAh to assure enough juice for your all-day use.
Pepper Jobs PD18W10P: 18W USB-C PowerDelivery Powerbank
Equipped with grade-A Lithium-Ion polymer battery
10,000 mAh battery capacity
Bi-directional USB-PD port, support both PD charging input & output
Support 18W max. charging wattage via the USB-C PD port
Support 18W max. charging wattage via the USB-A port (QC)
Support fast charging for iPhone XS Max/XS/XR/X/8 Plus/8, iPad Pro
Support fast charging for Nintendo Switch
Overcurrent protection, overcharging protection, overheat protection
Short circuit protection
PD port and USB-A ports can be operated simultaneously (5V/3A max.)
Digital battery gauge (%)
CE, FCC, RoHS, PSE certified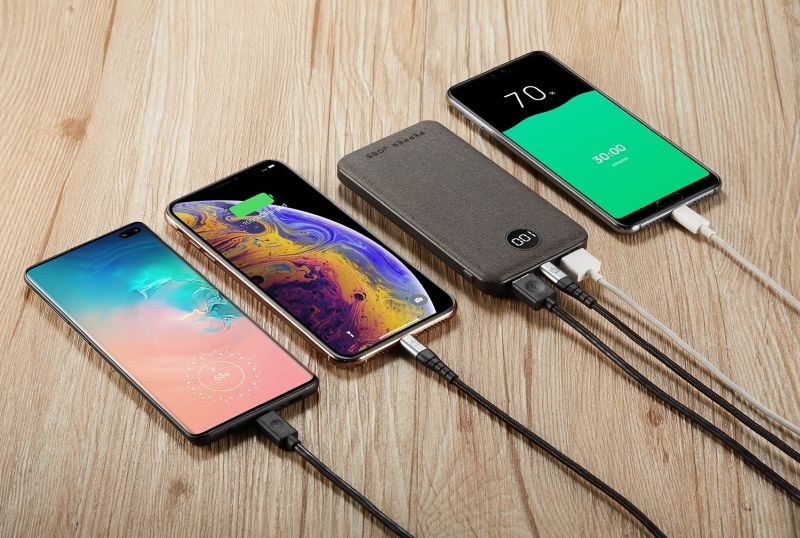 Technical

Specifications

Battery Capacity

10000mAh / 37Wh

Charging Efficiency

95%+ @ 1A, 85%+ @ 2A

PD Port Power Input

DC 5V/2.6A, 9V/2A (18W max.)

PD Power Output

DC 5V/2.4A, 9V/2A, 12V/1.5A (18W max.)

USB-A Power Output

Apple 2.4A, QC 3.0/SFCP: 5-12V, FCP/AFC: 9V (18W max.)

Operating Temperature

Charging: 0-50 ℃, Discharging: -5-50 ℃

Certifications

CE, FCC, PSE, RoHS